DemiCare Web Application Access
In this article we will go through step by step registration process for the DemiCare web application.
💡
In order to access DemiCare web application access the following link or simply click on the button bellow:
https://my.demicare.app/
---
Step 1: Once you access the link above, following screen will appear. In case you are new user, click on the "Create an Account" button.
Step 2: "Create an Account" button will redirect you to the next screen where you need to:
Select "I'm patient"
Select that you have read and agreed to the Terms of Service
Click "Next"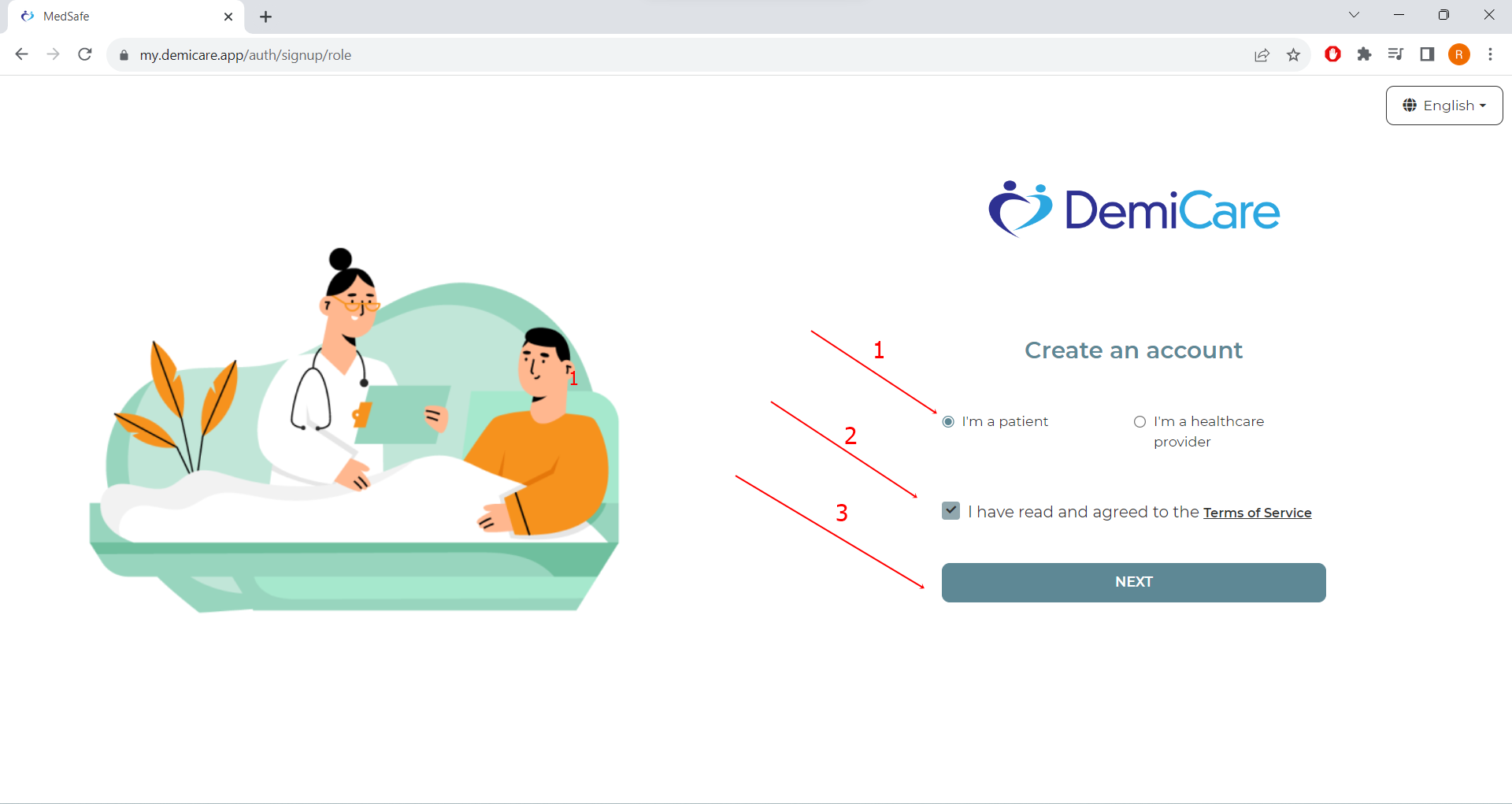 Step 3: Once you press "Next" button, you as a new user will be prompted to add the following information
Email address - Email address must be in the right format
Password - Password must contain at least 8 letters (1 upper case, 1 lower case, 1 number, one symbol
Repeat the password - it must match the password in the field above
Once all 3 fields fulfill the cirteria, you will be able to click "Create an account".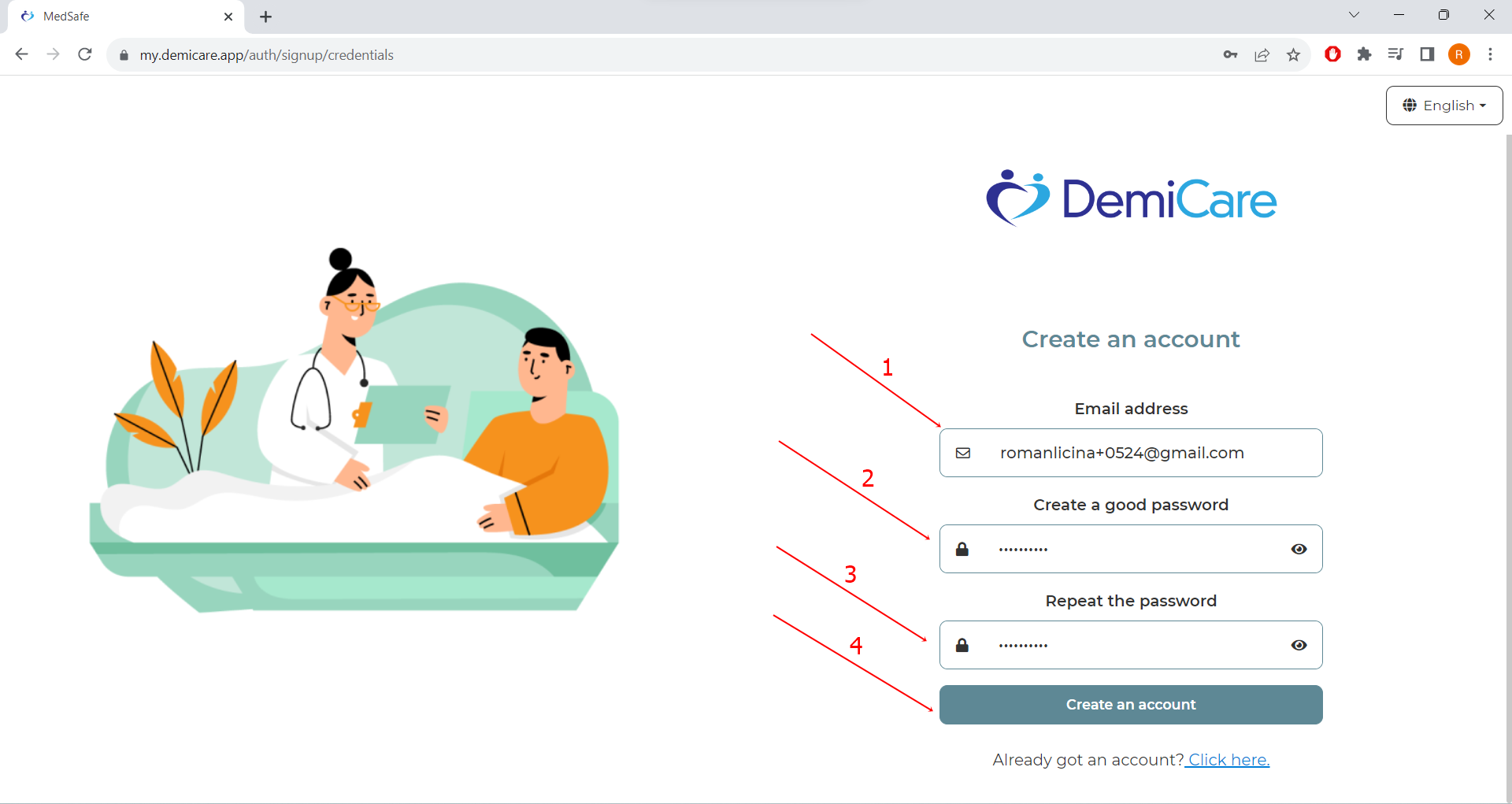 Step 4: If all previous steps are done properly, "Create an account" button will trigger a validation email and you will see the following screen:
Step 5: At this stage, you can go and access your email address where the validation email will be delivered. Validation email will look like the following example, simply click on the button "Confirm Email".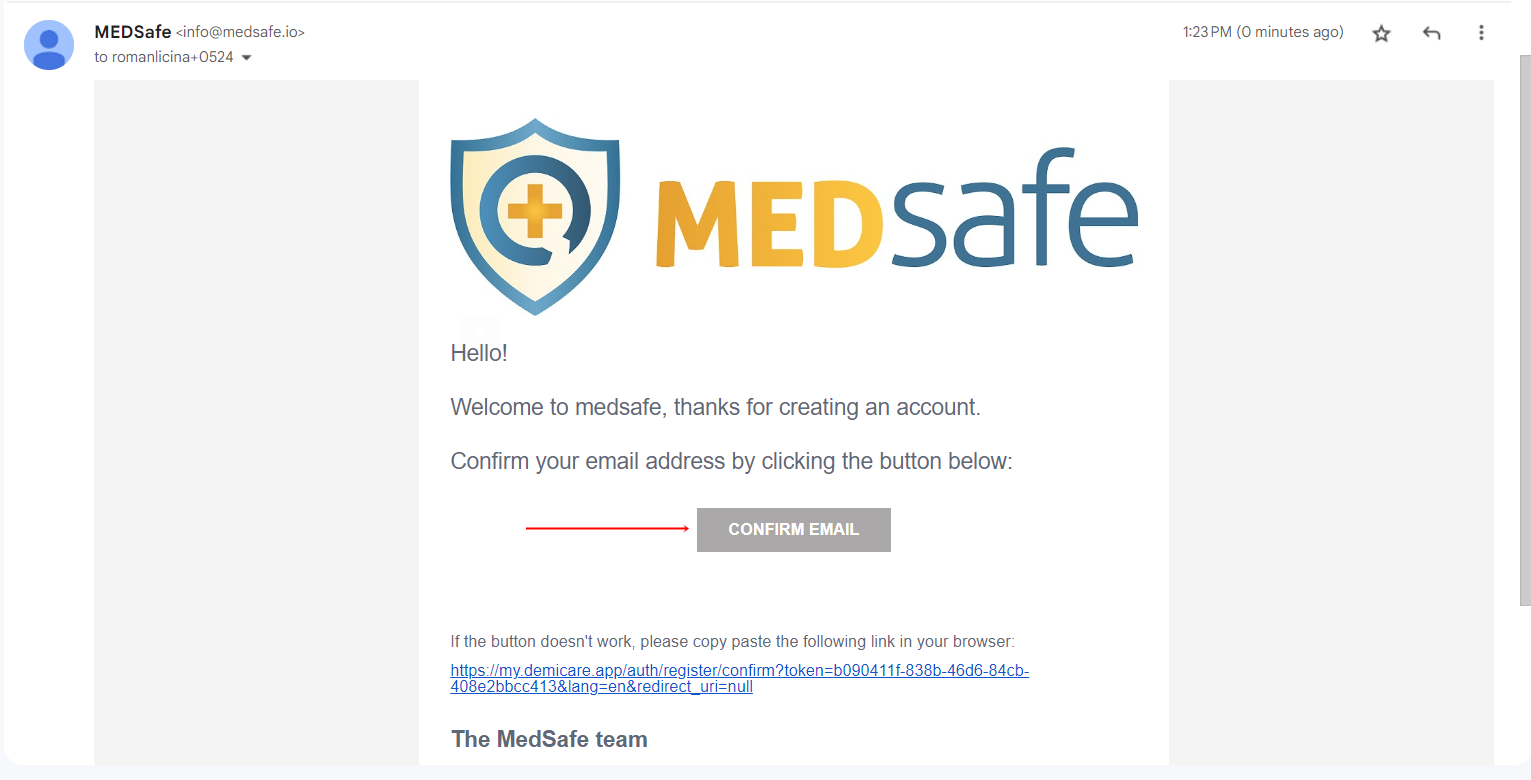 Step 6: Once "Confirm Email" is clicked on, you will be redirected to the DemiCare application where you need to click "Log In" and add your previously provided username and password.
Step 7: After successfully entering your Login credentials, you will have to add few more information before proceeding with using the app. You will be prompted to add the following
First Name
Last Name
Date of Birth
Gender
Make my profile visible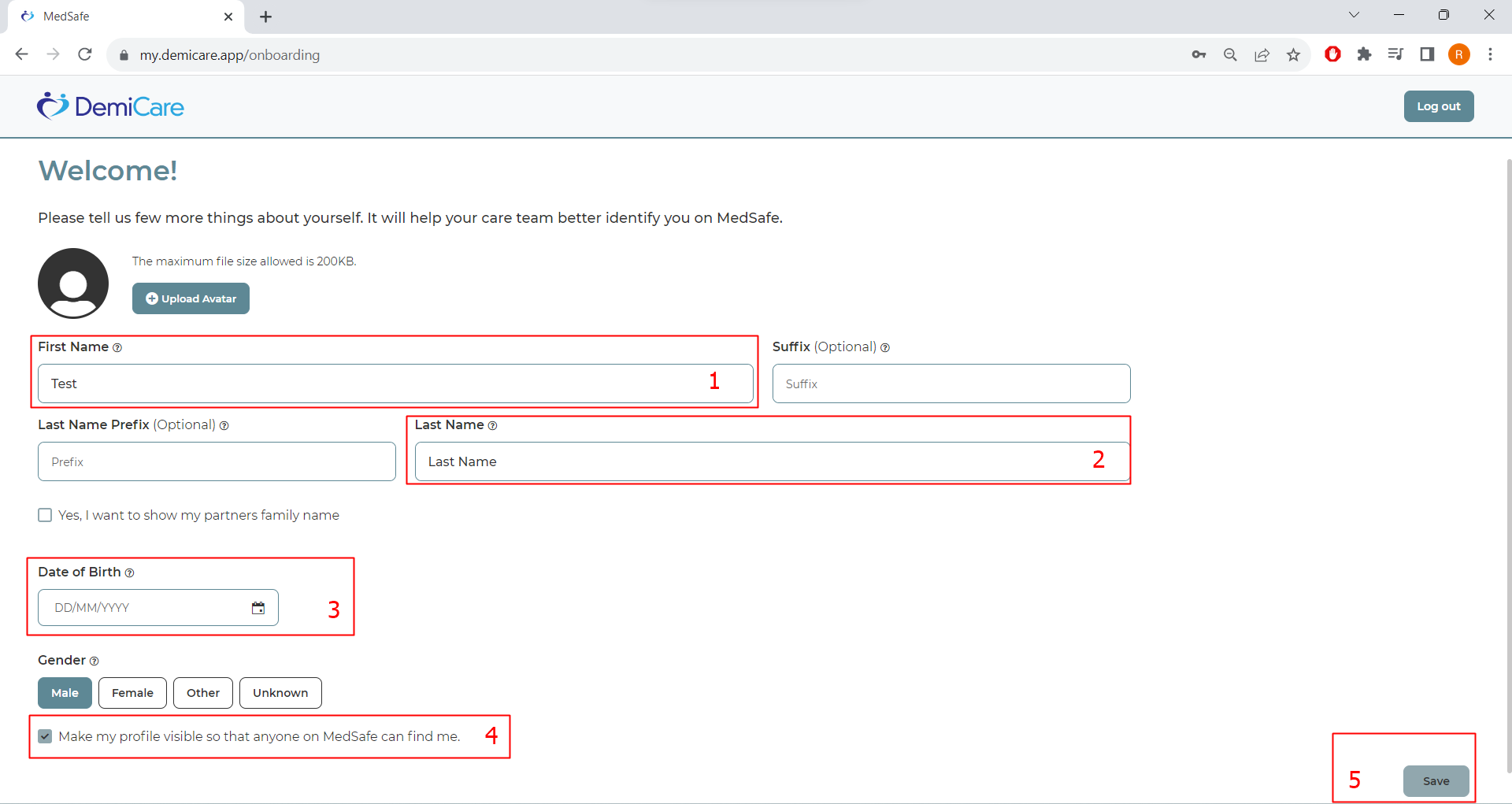 Step 8: On "Save" button, you will be redirected to the Dashboard page and moving forward this will be a default screen each time you log in as a user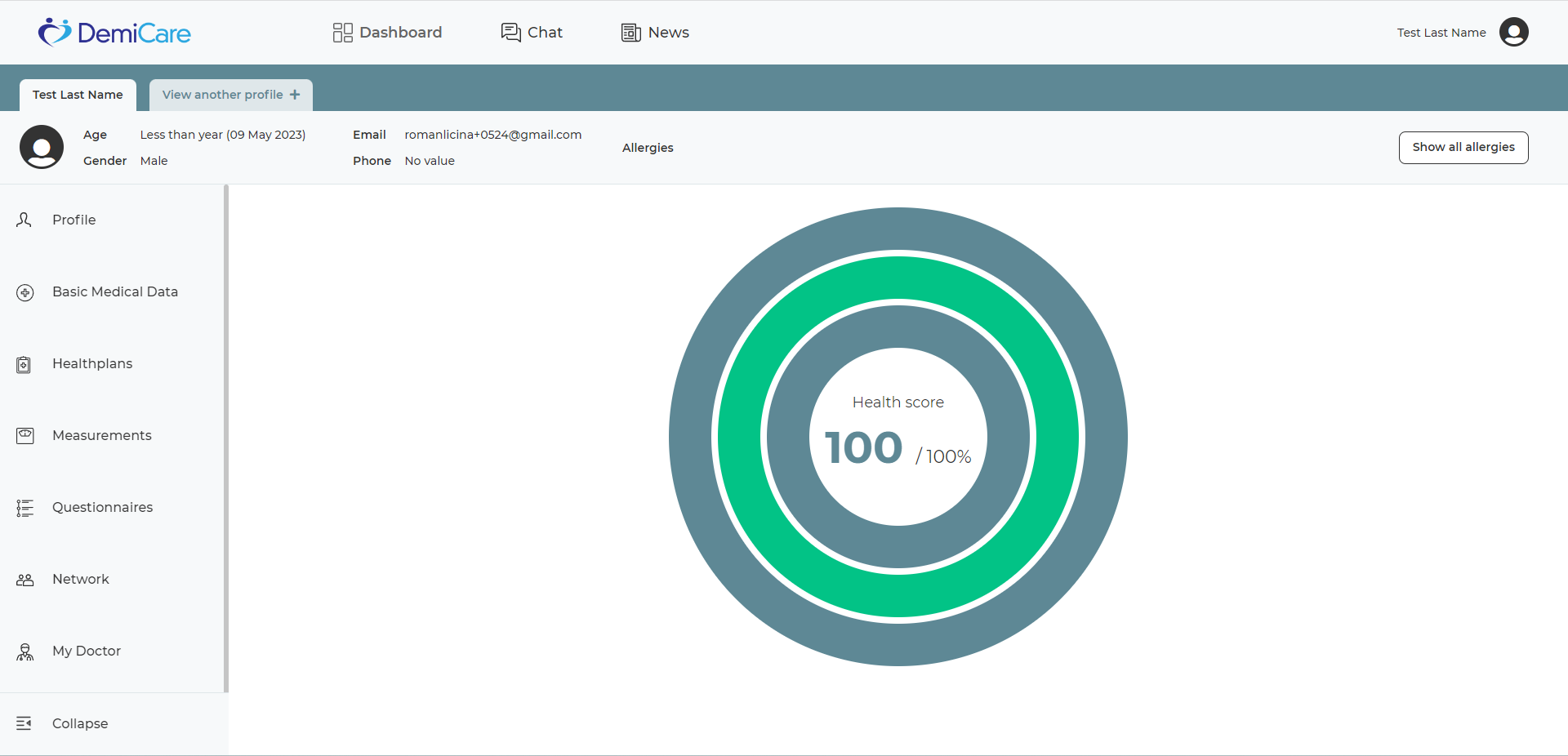 ---
In case of any issues or difficulties feel free to address it to roman@medrecord.io